Join the Unleashed Education Premium Membership
Let's cut to the chase...
We created the Unleashed Education Premium Membership to help you create amazing pet photos.
Not just a collection of online courses (though it is that as well), our Membership is community-based. If you're the kind of person who thrives on interaction with your peers and feedback from professionals to help you improve, this membership is perfect for you!
Being a successful pet photographer requires a vast and varied skill set.
Regardless of your experience level, whether you're a fresh-faced newbie or seasoned portrait photographer, there will be gaps in your skill set - and that's where Unleashed Education comes in!
As professional photographers and enthusiastic teachers, we believe in no-holds-barred sharing of our extensive pet photography shooting and editing knowledge, spanning * years of experience.
Read on to find out how we can help you achieve your pet photography dreams, whatever they entail (pun intended). We hope to see you in the membership soon!
- Charlotte and Craig 🐶 📸 ✨
Join Now
Andrea Fleury
Charlotte and Craig have put together the world's best resource for pet photographers whether you're brand new in the industry or a professional. There is nothing on the market that compares to the expertise shared in this membership. It's overflowing with content!
Karen Black
There is such an amazing wealth of educational content in the Unleashed Membership. The platform is gold. I recently started joining in on the live calls and am smacking myself on the head for not joining sooner. I pick up helpful editing and shooting tips on each call, and interacting with the group on the live call is really fun!
Jennifer Patterson
Unleashed Education is simply the best pet photography training program out there if you want to expand your creativity and advance your photography and editing skills (and have fun while you're doing it)!
Everything listed below is included in the premium membership!
Premium Courses
Online courses covering the art of natural light, outdoors pet photography in shooting and editing.
Unleashing the Power of Colour for Pet Photographers
Discover how colour can elevate your pet photography!
Value: $997
Learn More
RealShoots
® Complete Course
A behind-the-scenes reality show, about dog photography!
Value: $997
Learn More
Working with Natural Light
Drastically improve your outdoor dog photos just by understanding light
Value: $197
Learn More
Learning Packages
In-depth videos and e-books covering specific pet photography topics.
Unleashing Expression Your Dog Photography
In this 75-minute video presentation and 90-page PDF slide deck, you will learn about what good expression looks like, and top tips on how to elicit engaging expressions from your dog models to capture their personality and captivate your viewers.
Value: $49
Learn More
7 Ways to Unleash Variety in Your Dog Photography Sessions
This 50-minute video presentation and 20-page downloadable Companion Guide PDF guide gives you Charlotte and Craig's best advice for simply and effectively creating a wide variety of different looks in a single session.
Value: $49
Learn More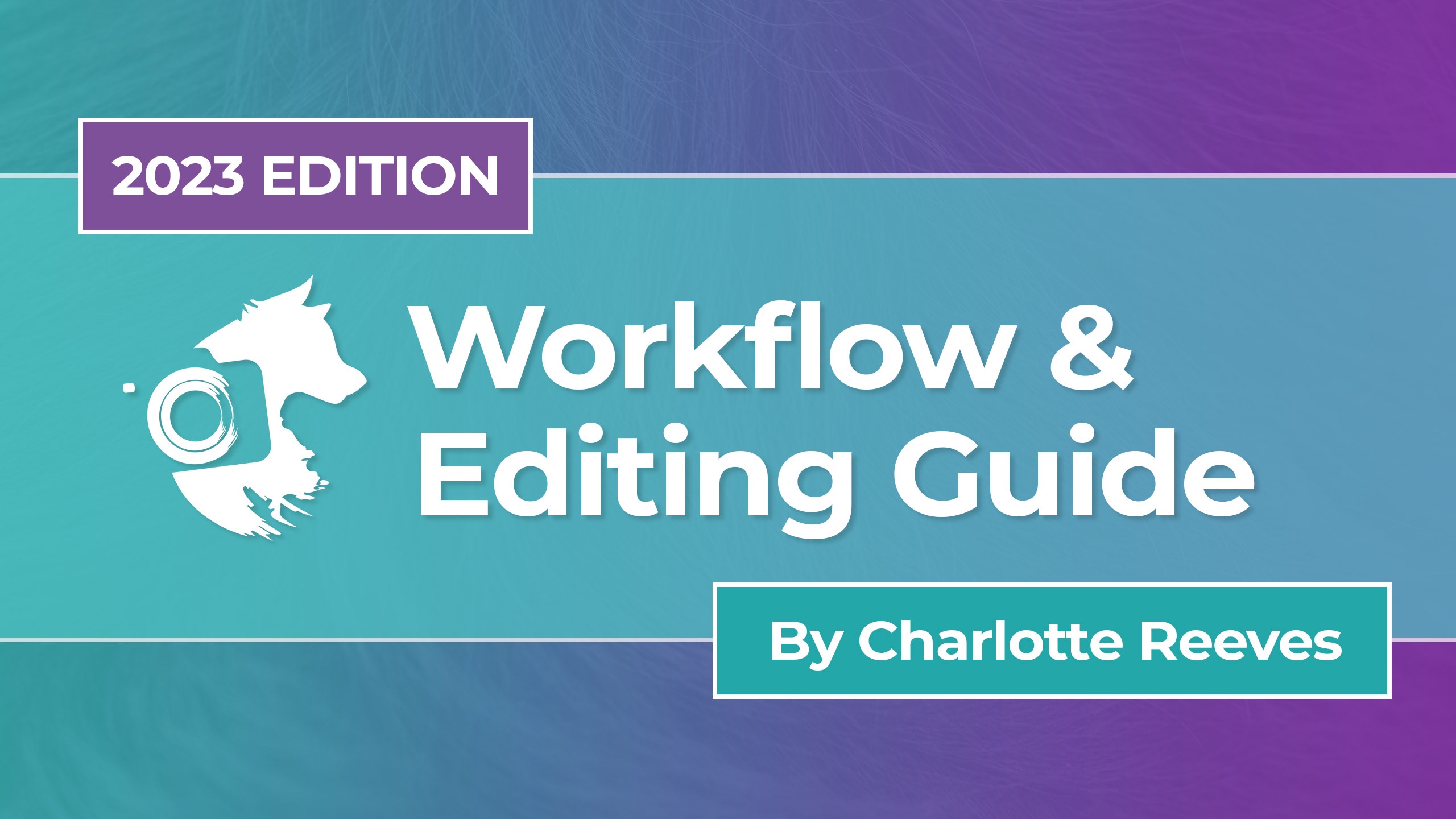 Workflow & Editing Guide
This 70-page e-book guide covers Charlotte's entire, super efficient and easy-to-follow workflow, then delves into her editing process in both Adobe Lightroom Classic and Adobe Photoshop.
Value: $97
Learn More
The Low Down
In this video Craig shares ALL the reasons why shooting from a low angle will transform your pet photography. How low can you go?
Value: $49
Learn More
Simplifying Manual Exposure for Pet Photographers
This 80-minute live call replay and 45-page PDF slide deck breaks down how to use manual exposure into simple concepts.
Value: $29
Learn More
A Beginner's Guide to Photographing Dogs
In this 46-minute live recording, Craig walks you through the most important aspects of photographing dogs, starting before you even pick up a camera.
Value: $29
Learn More
10 Tips for Awesome Action Photos of Dogs
In this 42-minute video, you'll learn everything you need to know to massively improve your hit rate on the action shots that can be so hard to master, and create beautiful portraits of dogs in motion.
Value: $49
Learn More
5 Mistakes Pet Photographers Are Making and How Not to Make Them
In this video, Craig discusses the five mistakes he sees pet photographers making, and how they can be avoided. Getting you started out on the right foot!
Value: $29
Learn More
Plus - we've got all your editing education covered!
The Premium Membership also includes access to Editing Unleashed - our editing-focused membership.
Inside, there's over 25 professional editing tutorials created by Charlotte and Craig, detailing a complete image edit in Lightroom and Photoshop from start to finish. These Unleashed Edits run between 18-35 minutes, are fluff-free (only good content) and have English closed captions so you won't miss a thing.
Plus, a brand new tutorial is added every month!
There's also weekly Editing Toolbox videos, and stacks of bonus resources - all about pet photography editing!
Plus these amazing resources only available in the premium membership!
Unleashed Lives - Live Group Coaching Calls
Tune into the monthly live group coaching calls hosted by Charlotte and Craig, or catch the replays in the membership.
Photo Lab
Always wanted to see how someone else would edit your photo? Submit your RAW file to Craig and Charlotte (we each hold one call per month) then join the monthly live call. Even if you haven't submitted, these sessions are full of valuable pet photography shooting and editing tips.
2 x 1 Hour Monthly Live Calls
Photo Feedback
Seeking feedback from a professional on your images? Submit your images to Craig and Charlotte (we alternate each month) then join the monthly live call. Even if you haven't submitted, these sessions are full of valuable pet photography shooting and editing tips.
1 Hour Monthly Live Call
The Lounge
Join us on the lounge as we mastermind a different pet photography topic each month. Submit your questions online or be on the call live to have your questions answered by Craig, Charlotte and your Unleashed community members in an open, informal group discussion.
1 Hour Monthly Live Call
Even more membership perks...
They just keep on coming! We add new resources monthly.
Unleashed Artists
High quality, professionally produced classes from professional pet photographers worldwide. We hand-pick only the best at their craft to produce a 45 minute masterclass on their chosen topic.
New artists added regularly
Edit My Photo Challenge
Charlotte and Craig will supply one of their RAW files for you to edit at the start of the month. Submit your entry by the end of the month, then tune in to see who won. If you win, you get a snazzy website badge to share, plus the opportunity to have one of your RAW files edited by us!
Monthly Editing Contest
Private Facebook Community
Join this exclusive online community of Unleashed Education members. Share your work, get feedback, celebrate wins, get shooting and editing advice, and even connect with Charlotte and Craig directly!
Members-only Facebook Group
Plus all our future resources!
We have so much more planned for Unleashed Education. We're both constantly coming up with new ideas for learning resources, courses and educational videos. And every paid resource we produce will be automatically added to the membership so you receive instant free access. There's no additional cost to you as an Unleashed Education Member!
Joining is a no-brainer, really! 🤯
"The Unleashed Education Premium Membership is full of top quality educational resources for anyone wanting to learn more about pet photography. The monthly live calls with photo and editing critiques are invaluable and it is a wonderful supportive community. Thank you so much Charlotte and Craig!"
- Michelle, Australia
Is this the right pet photography membership for you?
Whether you are aiming to start or grow your business, or perhaps this is simply a fun hobby - the skills we have to share will be invaluable in your personal pet photography journey.
You're a hobbyist, social media influencer or Instagram dog parent.
Basically, you aren't interested in starting a pet photography business.
Our membership is the perfect place for you! Because we focus only on the craft of pet photography - the shooting and editing side of things - 100% of the content contained within the membership can be applied to your non-business pet photography journey.
This makes our membership perfect for:
Hobbyists and enthusiastic amateurs
Instagram dog parents
Social media influencers
Those in related fields like dog training, dog walking or pet sitting
Pet rescue and shelter volunteer photographers
You're an enthusiastic amateur exploring the idea, or planning to make money from your photography.
We firmly believe that before offering professional pet photography services, you need to be producing solid, consistent work. When shooting for clients you'll be working with unfamiliar dogs, in a range of locations, so having the tools to handle every situation is essential before offering pet photography as a paid service.
We can set you off on the right path and guide you to build a stunning portfolio of work.
When you are ready to turn your passion for pet photography into a profitable business, we can point you in the right direction of pet photography specific business education, covering marketing, pricing and sales.
You're an aspiring professional, or already have an existing pet photography business.
So you already have a pet photography or related business that offers pet photography as a service - great! You'll know by now that you never stop learning in this field. Craig and Charlotte, with their vast wealth of experience, still learn something new at every photo session!
We know you're busy running your business, but continued self-improvement and personal development is so important to keep your skills fresh and creativity churning along. Our aim is to give you some fun, engaging learning experiences to give you a welcome respite from all that day-to-day business work.
We can't wait for you to join us!
Michelle Crandall
Signing up for the Unleashed Education Membership has made a significant difference in my confidence and portfolio. The live feedback calls help when you apply what you've learned in the courses and are looking to improve. If you are on the fence, take the leap, you will be glad you did!
Janet Deltuva
Unleashed is an incredible resource to focus on improving your pet photographs. It is a safe space to receive kind and generous feedback and advance your skillset. I have said this once and can say it 100 times and it will still be true: I have a bachelors degree in photography and have been photographing professionally for 5 years. And I STILL find the content of Unleashed truly the best skill-based course all in one place.
Nicole Moyer
The value and content of the Unleashed Membership is beyond amazing! I feel like I have learned so much and I still have so much content to go through! Being a part of the Unleashed community has helped my confidence and motivation to continue learning and improving!
What will you learn in the membership?
Giving you knowledge and tools to help fill in the gaps in your existing skill set, while putting you leaps and bounds ahead in the areas you're more familiar with.
Shooting Topics
Working with natural light
Understanding and controlling exposure
Focusing
Cameras, lenses and specialist gear
Finding and working with locations
Planning photo sessions
Tips and tricks to get your subjects to stay where you need them to!
Working with dogs, reading body language and capturing expression
Photographing dogs in action
Photographing multiple dogs, puppies and dogs with their owners
Techniques for working with trained dogs, or (more often) completely untrained dogs
Framing and shooting for outstanding composition
Creating variety in your work
Creativity and developing your own unique style
Editing Topics
We also cover the flipside of shooting - editing - across stacks of editing resources. We use and teach industry-standard Adobe programs Lightroom and Photoshop, with step by step how-to's and guides covering everything you need to know as a pet photographer:
File management and importing images
Workflow, culling and session management
Global adjustments to bring out the best in your RAW files
Local adjustments to enhance or fix areas in your photo
Dealing with colour casts
Basic pixel-level editing tasks such as eye booger cleaning, slobber wiping, leash and collar removal
Advanced editing techniques specifically for pets including head and body swaps, 'making friends', people and object removal
Painting with light to really enhance the finished product
Crafting panoramas and multi-image merges
Preparing your images for competition, online display and print
"The best investment for pet photographers! Amazing content, and I keep rewatching their videos and learning something new every time. Charlotte and Craig go way beyond what I expected tutors would do to help their students! Their willingness to share all their knowledge is awesome. And their passion about their profession is contagious!"
Dianne Willemsen
Frequently Asked Questions
What level of photographer do I need to be to get the most out of this membership?
What camera equipment do I need?
What software do I need to follow along on the editing tutorials?
Does the premium membership include Embark (Unleashed Challenges)?
Can I join the membership at any time?
When will I be billed for membership?
What if I need to cancel my membership?
How do I access the membership content?
Do I have to join the Facebook group?
Do I need to join the membership to access courses I've already purchased?
Is it worth joining the membership if I already have some of the included courses and resources?
"I am an amateur pet photographer and was struggling to find guidance in this specialized area. I am so grateful to find Unleashed Education and have access to two amazing professional pet photographers, Craig & Charlotte! I am so impressed with their skills & passion for teaching. They care about their members and encourage you regardless of the level you are at. My skills have improved even in a short few months. I also like the friendly community in the FB group and live classes, where we can share and learn together! "
Atreyi Mukherji, Canada
About your teachers
Charlotte and Craig
With * years of combined experience as working professional pet photographers (Craig actually celebrated his 20th year as a pet photographer in 2021), we have a wealth of knowledge to share with you. We've spent years shooting for both personal and commercial clients, creating award-winning images in the process. We've both completed personal projects and have firmly established (but constantly evolving) styles of our own.
We're photographers first, who also share a passion for helping pet photographers around the world to learn, grow and succeed in their chosen field.
Find Out More