Join the Editing Unleashed Membership
Are you focused on improving your pet photography editing skills?
We firmly believe editing your images is an important part of the process of creating amazing pet photography.
Editing Unleashed includes access to a range of editing-related resources created by Charlotte Reeves and Craig Turner-Bullock, all in a searchable central location!
And best of all, it's added to constantly! We release a brand new Unleashed Edit every month, and a new Editing Toolbox video every Friday.
Read on to discover more, or join now!
Join Now
If you're interested in improving both your shooting and editing skills, we have the Premium Membership, but if you're just interested in editing, this membership is for you!
What's included?
There's three main sections included in this editing-focused membership.
Unleashed Edits
Join Charlotte and Craig as they guide you through comprehensive start-to-finish edits of their favourite images in these professionally-produced video tutorials.
Depending on the edit, they run between 18-35 minutes, are fluff-free (only good content) and have English closed captions so you won't miss a thing.
Skip to the sections you're interested via the provided timecodes, and download the actual RAW files so you can play along at home.
25 tutorials and counting - new tutorials added monthly!
Editing Toolbox
Bite-sized tutorials (5-15 minutes long) where we share one quick tip, trick or technique to make your pet photography editing life easier!
Ad-free and with full English closed captions and timecodes, this is a great distraction and ad-free alternative to watching these on YouTube.
There are currently nearly 50 videos available, with new videos added weekly.
50 videos and counting - new videos added every Friday!
Editing Bonuses
This section is added to constantly! Visit and discover new member-exclusive editing-related resources.
In this section, Charlotte's complete Workflow & Editing Guide is available as an instantly downloadable 70-page illustrated PDF guide, valued at $97.
Also included are editing-focused live call replays and mini courses.
New content added regularly!
Intermediate Unleashed Edits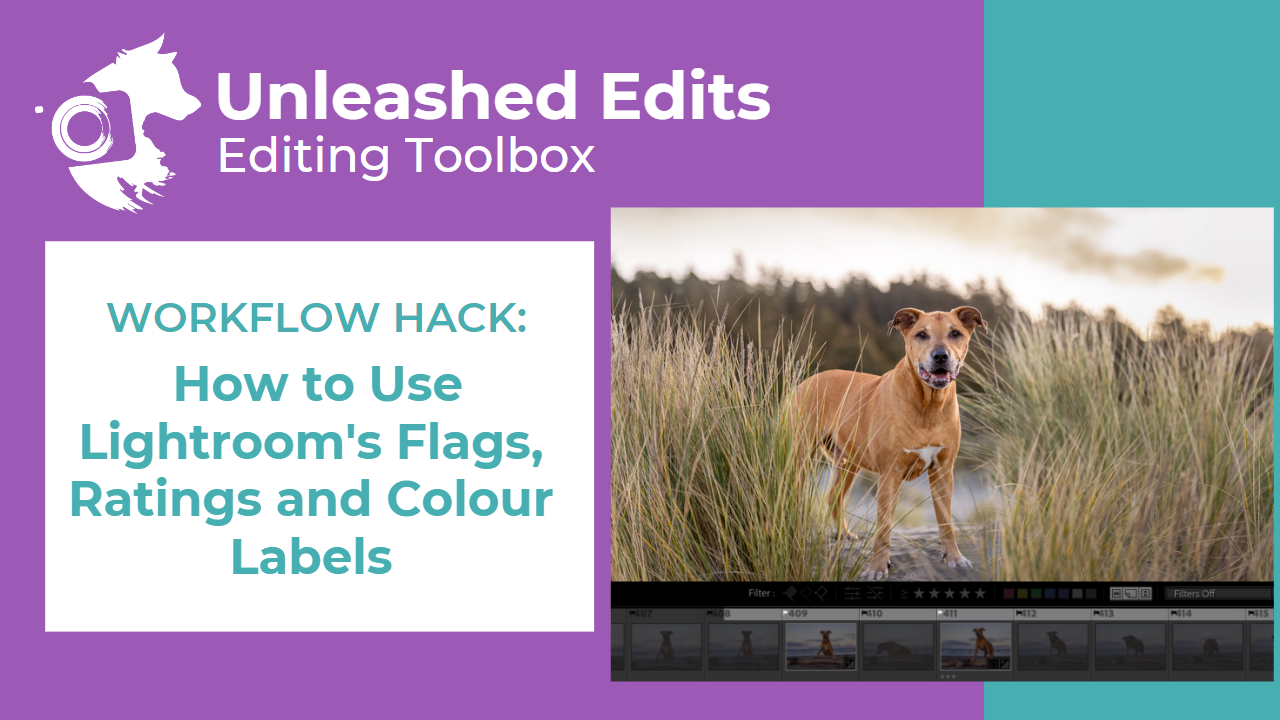 Extra pet photography editing resources
Here's a selection of additional resources that are all included in the Editing Unleashed Membership, with new resources being added all the time!
Workflow & Editing Guide PDF
Charlotte shares her complete Lightroom and Photoshop workflow with in this handy 70-page printable PDF guide.
Covering importing your images to Lightroom and backing them up to quickly culling a photo session. Delving into getting the most out of your RAW files using Lightroom's comprehensive toolkit.
In Photoshop she shares her top tips, specific to pet photography, for finishing off your images.
Valued at $97, this is available for instant download when you join the Editing Unleashed Membership!
More Details
Unleashing the New Lightroom Masking Tools
Catch the replay of this members-only live presentation! Join Charlotte as she takes an in-depth look at the new Adobe Lightroom masking tools, specifically related to pet photography.
During this video, we take a look at the new Subject and Sky selection tools, adding and subtracting from selections, colour and luminance range masking - so much good stuff to delve into.
Find out how it can revolutionise the way you edit (and how fast you can edit) in Lightroom!
Working with Layers in Photoshop
Understanding layers in Photoshop is an essential editing skill, but one that is often glossed over as common knowledge in most editing tutorials.
We've had so many requests for this topic that Charlotte created a special 5-part Editing Toolbox series focusing on everything you need to know as a pet photographer, about Photoshop layers.
Logically organised and simple to follow even for Photoshop beginners, this resource features full English closed captions and timecodes on every video.
Frequently Asked Questions
What software do I need to follow along on the editing tutorials?
Can I join the membership at any time?
When will I be billed for membership?
What if I need to cancel my membership?
How do I access the membership content?
What if I decide I want more than just editing tutorials?