The Pet Photographer's
Workflow & Editing Guide
By Charlotte Reeves
Need to sort out your workflow and learn how to get the most out of your images?
I have some good news for you - you've just found the perfect resource!
Hi, Charlotte here! 👋
Over * years working as a professional pet photographer, I've developed a super efficient workflow. I can have a full pet photography session culled and edited in just a couple of hours! I'm sharing my workflow with you in detail in this handy 70-page printable PDF guide.
I cover importing your images to Lightroom and backing them up (with a super easy explanation of how Lightroom actually works) to using systems to quickly cull down a photo session to a manageable number of images. I delve into getting the most out of your RAW files in Lightroom, including working with masks and gradients.
Then we head to Photoshop where I share my top tips, specific to pet photography, for finishing off your images. Think dealing with colour casts, selective toning, leash removal, head swaps, sharpening and noise reduction using Topaz.
And if you're looking to go deeper, there's direct links to free editing tutorials to explore as well.
Buy Now
"Jam packed with incredibly useful content! This guide is well written in a logical format which ensures maximum understanding. The workflow section gives a clear understanding and is invaluable for file management and proper backup. The editing portions provide a step by step guide for understanding Lightroom, as well as valuable tools in Photoshop. It is an excellent resource that you'll find yourself referring back to!"
Cris Skinner, Alaska
Does this sound like you?
You've only ever used Photoshop and want to start using Lightroom, but you have no idea where to begin

You have multiple Lightroom catalogues on the go and never know where to find your images

Lightroom is constantly showing missing images in your catalogue

You take forever selecting which images to edit, then go back and forth between Lightroom and Photoshop, so your filenames end up looking like this: IMG_2033-Edit-Edit-Edit-Edit.psd

You're always filling up hard drives because you never delete anything (what if you accidentally deleted something important?)

You edit a session, then realise there were better images that you missed including

Your image edits within the one session don't have a consistent look and feel

Trying to set the correct white balance drives you nuts

You see people's amazing before-and-afters, but don't know how to get the same results

You struggle with quality issues, but don't know which tools and sliders to use (in which program!) to fix noisy images

You open your images in Photoshop then stare blankly at the screen, not sure where to even start

You don't know which of the 473 tools in Photoshop are best to use to achieve what you're trying to do
If you can relate to any of these issues, you're not alone! These are all common problems I see pet photographers facing time and again. The good news is, it's all fixable with a little bit of knowledge and some good systems.
Workflow
Having an organised and efficient workflow is an essential practice for digital photography. By implementing the tips within, you can look forward to having a streamlined workflow and being able to instantly locate and work with your precious images! You'll also discover best practices for extending your workflow using Lightroom and Photoshop.
Adobe Lightroom Classic
Lightroom Classic is the ultimate one-stop-shop for pet photographers, including everything you need for a comprehensive but simplified workflow. Lightroom also comes with a host of powerful editing tools, allowing you to tap into the huge amount of detail present in camera RAW files. In fact, 95% of my editing is done in Lightroom!
Adobe Photoshop
Although the majority of my editing is usually completed in Lightroom, I still consider Photoshop an essential tool for more complex edits and polishing my images to perfection - there are some things that Lightroom just can't do. From customising Photoshop to suit you, to head swaps, I cover all the important pet photography related edits!
"WOW is all I can say about this guide!
"Packed full of actionable information, Charlotte walks you through step-by-step, explaining each technique in detail, so you understand the "why" behind the action. I kept exclaiming out loud to myself, "I didn't know THAT!"
"This is a must-have guide for any pet photographer who wants to really polish their photos in the area of post-processing. Highly recommended!"
Sheila Brauning, USA
What's included in this e-book:
This instantly downloadable e-book reference covers my entire workflow and editing process in both Adobe Lightroom Classic and Adobe Photoshop.
Covered within this 70-page illustrated PDF guide is:
Workflow process from import to export

Managing your image library with Adobe Lightroom Classic

Importing and organising your images

Global adjustments and masking in Lightroom

Best practices for cropping

Exporting to Photoshop for further editing

Customising Photoshop

Pixel-level editing in Photoshop with Content-Aware

White balance and colour correction in Photoshop

Sharpening and noise reduction techniques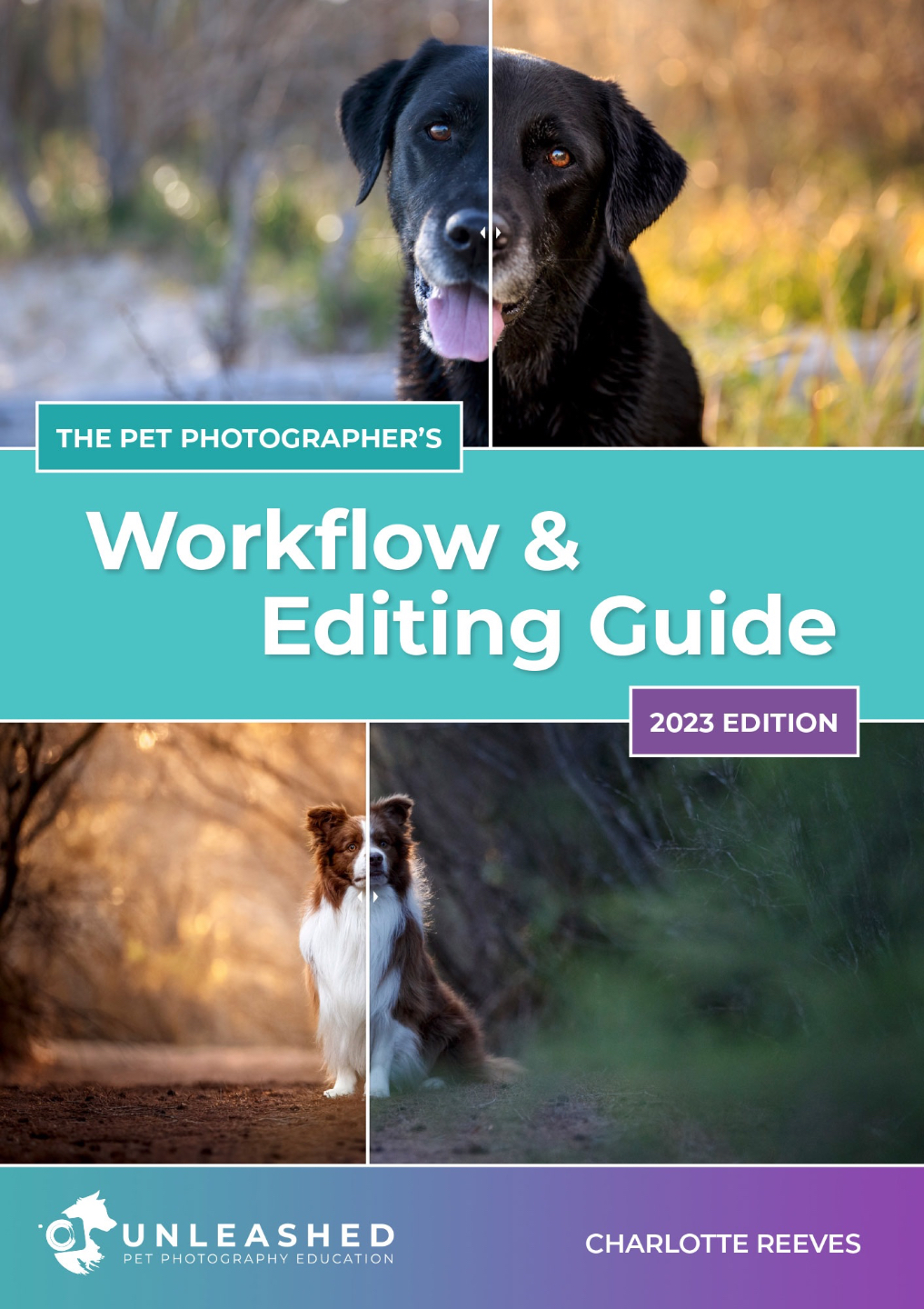 You can even connect with me directly in the discussion area and share your thoughts and questions!
"Charlotte's workflow guide has helped me tremendously. By following her steps I have been able to cut my editing time in almost half. Being able to deliver photo galleries to my clients quicker has made my life easier. Delivering ahead of schedule makes my clients happier. Win-win situation. Thanks Charlotte for this wonderful product."
Lorena Cora-Dredge, USA
Buy the standalone resource now, or join the Unleashed Education Premium Membership for instant access to a wealth of pet photography resources!
Your Instructor
Charlotte Reeves
Charlotte is an award-winning Australian pet photographer based in Brisbane. Addicted to creating lightbulb moments for students, Charlotte has been teaching pet photographers since 2013. She relishes simplifying tricky concepts, and helping people achieve their goals by making the learning fun, practical, and positive.
Meet Charlotte